Angus Council to lose 500 posts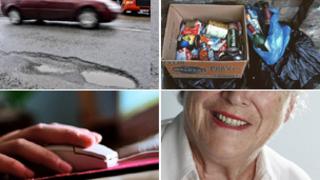 Services will be hit as Angus Council is forced to find £9m savings in the coming year, the authority has said.
Council leader Bob Myles said the need to make savings were a result of the Scottish government's 2.6% cut in local government funding.
About 500 posts at the council are expected to be cut as part of the measures.
A leaflet outlining potential changes to services has been delivered to all households in the county.
Mr Myles said: "We've been preparing for this reduction in funding for some time but that doesn't make it any easier to deliver savings of £9m from services in a single year - it's double the amount we had to save this year.
Reduced opening
"Although Angus is in a better financial position than many other areas, we can't make that amount of savings without affecting services."
The council is aiming to improve its efficiency - saving £6m by 2014 - and make a 10% cut in the number of staff by the same year.
Mr Myles said he hoped to achieve the cut in staff numbers by "natural turnover" but he said the loss would affect services.
Some council services may shorten their opening hours, or see the level of service being reduced.
Commercial property rents and other charges could also be raised to offset some of the savings, the council said.
Residents have been asked to send the council their views on the proposed changes.