Firefighters remove Dundee shop roof icicles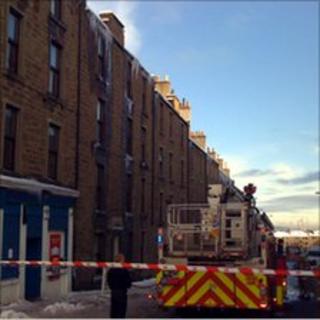 Firefighters in Dundee were called to remove icicles from a roof over fears they could fall on someone using the cash machine below.
Tayside Fire said they had to use a high-reach appliance to clear the ice from the roof above the Morning Noon and Night Store on Blackness Road.
Emergency calls to the fire service have jumped from a daily average of 30 to 115, a spokesman said.
About half these calls were dealing with the effects of wintry weather.
Rab Middlemiss, from Tayside Fire and Rescue, said: "Fire crews used a high-reach fire engine to reach the roof area and remove snow and ice that were hanging directly above the ATM cash point and entrance to the store, proving a potential hazard to the public."
Mr Middlemiss warned the public to be vigilant when passing tall buildings and leaving or entering tenement blocks as snow and ice may fall off.
He also advised that people should remove snow and ice from their roofs if it was safe to do so.
Tayside Fire said they had also been making extra visits to properties with elderly and vulnerable people to ensure that emergency access was maintained.