Dundee police to track off-licence sales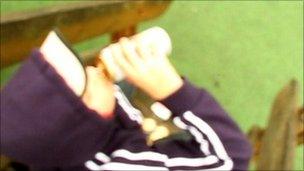 Off licences in Dundee are to begin tagging bottles of alcohol so the buyer can be traced if they are later passed on to under-age drinkers.
Tayside Police said it was difficult for stores to know if legally-bought alcohol was being given to youngsters.
Under the scheme, off licences in Stobswell have been given a unique code to mark bottles so they can be traced to a specific store.
Officers can then check CCTV to see who bought the alcohol.
Pc Jim Smith, of Tayside Police, said under-age drinking was often a direct cause of anti-social behaviour in Stobswell.
He said: ''We trust that all off-sales premises are carrying out the necessary checks to ensure that persons under the age of 18 are not being sold alcohol directly.
"However, we do appreciate that it is difficult for off licences to ensure that every bottle of alcohol sold is not being passed on to youngsters."
The tagging project is a joint initiative between police, Dundee City Council and local off licences.
Pc Smith added: ''Those caught supplying alcohol to those under the age of 18 will always be reported to the procurator fiscal and could face a fine of up to £5,000 or even a prison sentence."
Related Internet Links
The BBC is not responsible for the content of external sites.