Farmers stage free milk giveaway protest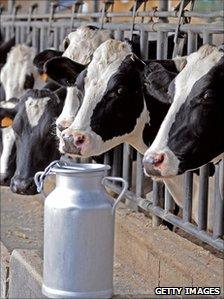 Dairy farmers are giving away free milk to highlight the gap between the cost of production and the selling price of milk.
It comes after the Farmers for Action lobby group targeted Asda's distribution premises at Grangemouth.
Campaigners claim the price supermarkets pay for milk is too low to sustain the sector.
Farmers are giving away free milk at Asda in Govan and at Tesco in South Queensferry.
The protest follows demonstrations by Farmers for Action outside Tesco distribution centres in England last month.
Speaking from the Asda store in Govan, NFU Scotland president Jim McLaren said: "Almost all the milk produced on Scottish dairy farms goes to help fill supermarket shelves - this could be as fresh, nutritious pints of milk, quality Scottish cheddar, not to mention butter, cream, yoghurts and dairy desserts.
"The good news is that consumption of milk and cheese is rising and every supermarket in Scotland - large and small - is doing very well from providing their customers with fresh milk and dairy products.
"Dairy farmers want to share in that good news but the reality on farms is that most dairy farmers are currently receiving a price for their milk that is well below the cost of producing it."
In a statement, Asda said: "Throughout the period of Farmers for Action's activities, we have listened to the concerns of farmers about milk prices which we are told prompted this protest, and have endeavoured to address those concerns.
"Asda is well-known for the partnership approach we have adopted with British farmers, particularly in the dairy sector, over recent years.
"All of our fresh milk is supplied via an exclusive relationship with a group of Arla farmers within the Asda-dedicated supply chain, and in doing so we pay a significant premium for our milk."
Asda said it had not recently reduced the price of milk or entered into any short-term promotion.
It added: "Our retail prices for milk have in fact not altered since July 2010. Since July we have also increased the price paid to our farmers for their milk."
Related Internet Links
The BBC is not responsible for the content of external sites.