Closure likely for Noranside open prison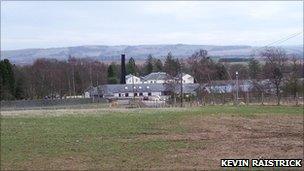 Staff at Noranside Prison in Angus have been told that the jail is likely to close.
The Scottish Prison Service said the open prison was operating at 65% capacity and that inmates could be accommodated at nearby Castle Huntly.
The future of Noranside has been in doubt since the Scottish government announced cuts in justice spending in its last budget.
Union representatives said they were "disappointed" at the decision.
A spokesman for the Scottish Prison Officers Association (SPOA) said: "We are seriously concerned about the commitment to the open estate and the role that it plays in the rehabilitation of prisoners."
But the spokesman added that the association had received a "clear commitment" that there would be no compulsory redundancies as a result of the closure.
Noranside has been running under capacity since the Scottish government ordered a tightening of the rules on open prisons in the wake of the Robert Foye case in 2008.
Foye raped a 16-year-old schoolgirl in Cumbernauld after absconding from Castle Huntly, while serving a sentence for attempting to murder a police officer.
A spokesman for the Scottish Prison Service said the "strictest-ever" risk assessment was now in place on whether inmates should be allowed to be kept in open prisons.
He said: "This has meant that in recent times the open estate has been operating at about 65% of capacity, consistently less than the capacity of HMP Castle Huntly.
"We will of course consider any comments we receive prior to a final decision."
The prison's future will be decided early in the new year.
Related Internet Links
The BBC is not responsible for the content of external sites.