Scots troops to deploy for six-month Afghan mission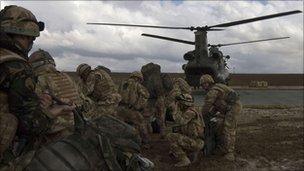 More than 1,500 Scots-based service personnel are to be deployed to Afghanistan, the Ministry of Defence has announced.
From April, 700 Arbroath-based Royal Marines from 45 Commando will be based in Nad-e-Ali.
Another 500 soldiers from 4 Scots, The Highlanders, will help mentor the Afghan national army.
They will be deployed along with 100 troops from the Royal Scots Dragoon Guards.
The MoD said 120 RAF personnel from Lossiemouth's 617 Squadron would also carry out patrols and reconnaissance missions from a base in Kandahar.
In addition, 200 RAF personnel from 6 Force Protection Wing HQ and 58 Squadron - the new RAF Regiment based at RAF Leuchars in Fife, plus reservists from 603 (City of Edinburgh) Squadron RAuxAF will be responsible for the security of one of the main Nato air bases in Afghanistan.
The Scots servicemen and women will serve six months in the war-torn country as part of 3 Commando Brigade.
An MOD spokeswoman said: "Scottish soldiers and Scots-based troops are once again getting ready to make a vital contribution to Nato operations in Afghanistan next year.
"All the units are already busy training to ensure they are able to face the challenges ahead.
"Our troops receive excellent support from their families and local communities, for which they are most grateful.
"That encouragement boosts morale and gives them great strength when they are far from home."
Related Internet Links
The BBC is not responsible for the content of external sites.