Ninewells Hospital criticised over hygiene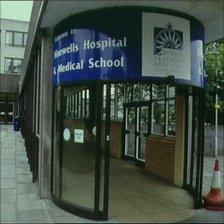 Infection control and cleanliness still need to be improved at Ninewells Hospital in Dundee, an inspection has found.
Inspectors said the hospital had not fully resolved two issues raised during a previous visit 12 months ago.
But the Healthcare Environment Inpectorate (HEI) report added that overall NHS Tayside was working towards complying with infection standards.
NHS Tayside said it was "obviously disappointed" by some of the findings.
The hospital was inspected during an unannounced visit on 16 and 17 of November.
Eleven wards were assessed, including accident and emergency, the intensive therapy unit and children's ward.
Last year, five people died at the hospital after an outbreak of Clostridium difficile in one of the wards.
The inspector's report found 11 areas where improvements needed to be made to comply with NHS quality standards in healthcare relating to infection.
Susan Brimelow, HEI's chief inspector said: "We are particularly concerned that two of the improvements expected from NHS Tayside from our previous inspection report of Ninewells hospital published in December 2009 have not been fully actioned."
The improvements related to an "inconsistent approach" to recording the temperatures of clinical and kitchen fridges, the chief inspector said.
Among other findings in the report were:
A lack of use of personal protective equipment, including gloves and aprons when changing bed linen
Poor hand hygiene compliance and lack of provision of alcohol hand gel in two wards
Poor linen handling and disposal, including overflowing linen bags
The deputy chief executive of NHS Tayside, Gerry Marr, said: "We are obviously disappointed by some of the findings in the Healthcare Environment Inspectorate's report published today.
"The report did state that overall the inspection team found the ward environment and clinical areas to be clean, but some of the observed findings are unacceptable for NHS Tayside.
"We are working closely in partnership with our staff side colleagues to make sure all our staff are supported as we concentrate on the issues raised surrounding hygiene and infection control and reinforce best practice across all our wards and departments."
The Scottish government said it expected NHS Tayside to work quickly to address the issues.
Scottish Health Secretary Nicola Sturgeon said: "This report is clearly disappointing and I expect NHS Tayside to implement an improvement plan as a matter of urgency.
"I have asked officials to provide the necessary support to put in place a robust infection control policy.
"Tackling healthcare acquired infection is my top priority and I want patients to be confident that they are getting the highest standards from our health service."
Related Internet Links
The BBC is not responsible for the content of external sites.