Gleneagles graffiti tagger to repay council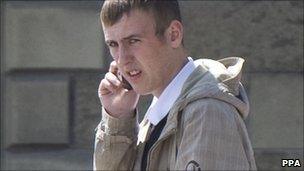 A graffiti artist will spend the next two years paying to replace road signs he wrecked by spray-painting them.
Daniel Carlin was told he would have to repay "every single penny" of the £4,206 his vandalism cost the council.
The 19-year-old, from Glasgow, admitted damaging several road signs on the A9 near Gleneagles.
Sheriff Robert McCreadie criticised Carlin for costing a council money at a time when many services were facing widespread cuts.
The teenager, who has sold his graffiti work to galleries, was warned he would have to spend the next 28 months paying back the council at £150 a month until the full amount was settled.
He was caught after walking into a police station with cans of spray paint in his bag along with photos of his tags on the road signs.
Perth Sheriff Court heard he had gone to police to report his friends missing when he failed to make contact with them after travelling from Glasgow for an "impromptu" music event.
Officers had already heard about the graffiti and decided to search Carlin. They discovered a number of aerosol paint cans and a phone featuring photos of his work.
Sheriff Robert McCreadie said: "This was childish, puerile, stupid, idiotic, immature behaviour which the rest of us find difficult to fathom. How would he feel if someone came up to his property and spray painted it?
"Road signs are of particular significance as they may be related to road safety. I expect him to pay every single penny back to the taxpayer for the damage he caused."
The sheriff added: "There seems to be a belief this kind of graffiti is art, but it is not art, it is vandalism because you are damaging the property and the public has to pay. Now he has had his comeuppance."
The signs were sprayed with the words "byro" and "blah" which Carlin, a fork-lift truck driver, used as tags to identify his work.
Sheriff McCreadie deferred sentence until 3 February January for Carlin to be of good behaviour and he was freed on bail.
Related Internet Links
The BBC is not responsible for the content of external sites.