Perth trader 'bills' council for gritting her street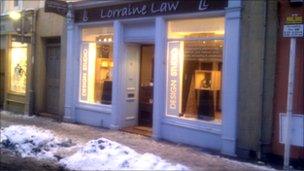 A shop owner in Perth has "billed" her local council for clearing snow and ice off the pavements of her street.
Lorraine Law said it was "nigh on impossible" for shoppers to negotiate stretches of Princes Street, hitting pre-Christmas sales.
Ms Law sent a fake invoice to the council, mimicking Mastercard adverts with the line: "Council not supporting independent retailers: Priceless."
Perth and Kinross Council said it could understand people's frustration.
The letter from Ms Law, who runs a designer jewellery store, was sent to the council leader Ian Miller and chief executive Bernadette Malone.
She said she had been forced to buy her own grit to clear the street herself before the pre-Christmas shopping rush at the weekend.
She wrote: "Although I had cleared the pavement outside my premises, as had our neighbours, it was nigh on impossible to negotiate the thick sheets of ice at either end of the street.
"I reported this with the hope that action would be taken prior to one of the busiest shopping days of the year on Saturday, 11 December.
"On the morning of that Saturday, no action had been taken and the pavements remained impassable. I had no choice, therefore, but to go and purchase salt and sand and grit the whole length of street myself."
Ms Law said that although everyone should play their part during the severe weather she did not expect "to be undertaking the council's work for them".
"When all other surrounding streets and pavements had been cleared, there is no reason for our section of the street to remain untouched," she added.
The invoice requests £14 for salt and grit, as well as a £50 labour charge.
A spokesman for Perth and Kinross Council said Princes Street was regularly treated under the council's severe weather priority system.
He said: "During the cold spell there has been a build-up of snow and ice on many town centre footways, including Princes Street, which has unfortunately not responded to our gritting or ploughing work due to the exceptionally low temperatures.
"We understand people's frustration with the impact of such severe weather.
"We are doing all that we can as quickly as we can, and we would like to thank residents who have supported our efforts and understood the huge challenges we are facing."
Related Internet Links
The BBC is not responsible for the content of external sites.