Water revenge man given 260 hours community service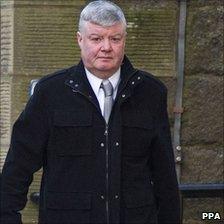 A man who caused £50,000 of damage to a neighbour's home when he deliberately flooded it has been ordered to pay them £3,000 compensation.
George McGourty, 51, pumped thousands of gallons of water into the house in Bridge of Earn, Perthshire, because he did not like their new extension.
The electrician was also told to carry out 260 hours community service.
Shirley Elliott, who was forced to move out of her home for several months, said the sentence was a "joke".
She said: "He should have been sent to jail for what he did. Everybody we have spoken to thought he should be jailed for it."
Her partner Colin Callaghan said: "The compensation is a lot of rubbish. We didn't want money, we wanted justice. This is not justice."
McGourty, who now lives in Kinfauns, near Perth, was ordered to pay £1,000 each to Ms Elliot, her son and Mr Callaghan as compensation.
He admitted at an earlier hearing to drilling a hole in the wall of his neighbour's four-bedroom villa in April 2009 so he could push a hosepipe through and fill it with water.
The self-employed electrician took his revenge on the family after falling out with them when they turned a garage into a granny flat. He claimed it was four feet longer than he expected.
Ms Elliott and her partner - who had used McGourty to wire the extension - spent months investigating the running water sound and eventually found the hose sticking out of their wall.
They followed the trail of the hose back to McGourty's shed and called in the police. He had built a rabbit hutch to help hide his actions.
Perth Sheriff Court heard that since the offence came to light McGourty had been sent mocking letters.
One package contained information about the Tower of London, while another was simply a black dot on a piece of paper - the pirate symbol for guilt or death, as written about in Treasure Island.
Paul Ralph, defending, said McGourty, who has no previous convictions, had moved out of the house.
He said £50,000 from the sale of his client's £200,000 home had been set aside for compensation as the result of an action at the Court of Session.
In a victim statement given to the court, Ms Elliott said: "We hope the sheriff is aware the suffering lasted 18 months. The damage done to my property was over a long period of time.
"The damage was in excess of 50,000 pounds. We had to be moved out of our house for six months. This was not a one-off incident and was pre-meditated.
She added: "Colin now has lymph cancer and although we cannot prove it, stress may have been a factor and this could have triggered it off due to the immense stress we have been under."
Sheriff Lindsay Foulis, who saw pictures of damage to the detached home - including tide marks rising two feet up the walls - said he would not jail McGourty because of his previous good record.
Related Internet Links
The BBC is not responsible for the content of external sites.