Dead 'python' found in Alva bin inspections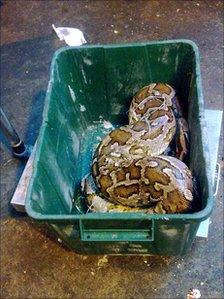 Council workers checking levels of waste recycling in Clackmannanshire have found a large dead snake.
A spokesman for the council said the reptile, believed to be a python, was discovered by workers carrying out routine household bin inspections.
The snake is believed to have been collected from a green residual waste bin in the Alva area.
The council said it appeared to have died of natural causes, weighed about 14kg and measured almost 2m in length.
Councillor Eddie Carrick said: "The death of pets is inevitable, but this is the first time our workers have found such a large snake and it really gave them quite a surprise.
"We often sample the contents of bins to check what recyclable materials are still being put into the green bins, so that we can better target our messages encouraging residents to recycle.
"The messages must be working because Clackmannanshire recently set a Scottish record recycling rate of 54.3% for the quarter April to June this year."
Related Internet Links
The BBC is not responsible for the content of external sites.