Stirling Heads 'masterpiece' restored at castle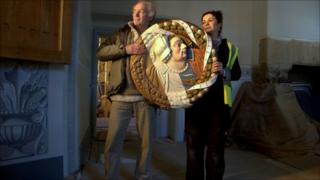 Experts have finally completed the recreation of "a lost Renaissance masterpiece" at Stirling Castle.
Replicas of the 37 "Stirling Heads" are now installed on the ceiling of the King's Inner Hall, after six years of restoration work.
They were copied from the original 16th Century carvings, which depicted the faces of historical figures.
The recreation of the Stirling Heads is part of Historic Scotland's £12m restoration of the Royal Palace.
The project is an attempt to return the palace inside Stirling Castle to how it may have looked during its 16th Century prime.
It also involves creating a special gallery on the upper floor of the palace where the original Stirling Heads will be on display.
The originals are of such artistic importance they are sometimes called Scotland's other crown jewels.
Thirty-four of the metre-wide oak medallions survived when the ceiling of the King's Inner Hall was taken down in 1777.
Two were later destroyed in a fire in the 1940s, but Livingston-based craftsman John Donaldson was able to create copies from pictures.
For the 37th replica head, Mr Donaldson carved a likeness of his daughter's face.
The new heads were then painted by a specialist art restoration team led by artist Graciela Ainsworth, from Leith.
Fragments discovered on the original heads proved they used to be painted and extensive research meant that suitable colours were used for the modern versions.
'Rich' colours
Historic Scotland said the ceiling had now been redecorated in "glorious, colourful 16th Century style".
Ms Ainsworth said: "All of us have felt incredibly privileged. We are all very passionate about what we do and we just wanted to give the best that we possible could to the project.
"Using the rich, beautiful colours, we have tried to get as near the colours that they would have been using at the time."
It has taken four painters around three months to complete the replica heads, using materials and techniques as close as possible to those of the 1500s.
Peter Buchanan, Stirling Castle Palace Project Manager, said: "We've been looking forward to this moment for a long time - the new versions of the heads took five years to carve and since then a great deal of work has been done to create the ceiling and get the painting just right.
"The original ceiling was a masterpiece of Scottish Renaissance art and craftsmanship and our recreation is designed to be just as impressive.
"When people see it for the first time they sometimes just stand and say 'wow'."