A9 driver told police 'I'm still a bit drunk'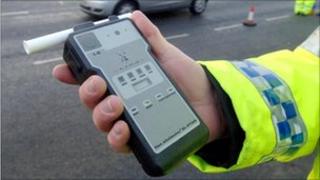 A motorist who told police he was "still a bit drunk" after being pulled over in Perthshire, has been banned from driving.
John Murphy, 36, from Newcastle, was stopped on the A9 on 15 January while returning from a fishing trip.
Perth Sheriff Court heard he was driving after he and his friends were asked to leave a guesthouse for being too rowdy.
Murphy was banned from driving for 15 months and fined £500.
Fiscal depute Robbie Brown told the court: "The accused had been with a group of others who had been fishing.
"His vehicle was stopped on the A9."
Heavy drinking
Mr Robbie added: "The accused said to the police that he was still a bit drunk.
"He said he had been drinking heavily the previous evening."
Solicitor Linda Clark, defending, said her client's plan was not to return to Newcastle until much later on the 15 January.
She said: "However, an altercation took place at the premises they were staying in between other members of the party.
"And they were required to leave earlier than expected."