Falkirk Council announces 'balancing act' budget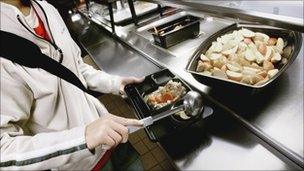 Falkirk Council has announced a raft of cuts and increases in charges as it attempts to make savings of £8.5m.
But council tax will remain frozen for the next financial year, in accordance with the Scottish government's request.
Falkirk Council leader Craig Martin said the budget was a "balancing act" between protecting jobs, maintaining services and meeting savings targets.
Among the measures are an increase in council house rent and a pledge to cut staff costs by more than £2m.
A spokesman for the council said it did not plan to make any redundancies in the next financial year.
He said that, instead, savings would be made by not filling vacant posts. There will also be a "review of working practices and terms and conditions" of all council staff.
Savings of £900,000 have been made by transferring over many community services to a charitable trust.
The 16,000 tenants in council houses in Falkirk will see an average weekly rent rise of £1.86, though 9,000 tenants receiving housing benefit will be protected from the increase, the council said.
Councillors have also agreed a spending programme of £81m on council housing. A total of £21.25m has also been set aside to build 150 new council homes.
Mr Martin said: "Achieving this year's budget has been a balancing act between maintaining services, protecting jobs and meeting government-set savings of around £8.5m.
"At the same time we continue to face acute financial pressures including increased energy costs, rising homelessness, and caring for children and the elderly.
"However, we have prioritised our investment plans for the next three years so we can invest in priority areas."
The councillor said the authority had increased its social work budget by 4.5%, investing an extra £3.6m.
The roads budget has also been increased by 7.8% in the wake of two prolonged periods of cold weather in the past 15 months.
Councillors also approved a £65m investment package which includes flood prevention work and the building of a new primary school in North Falkirk.
Among the fees and charges being increased are school meals, which will rise by 10p a meal in nurseries and 15p in primary, secondary and special schools.
Town centre car park charges will rise by 20p.
And crematorium and interment fees are go up by 12.5 % and 15% respectively.
Related Internet Links
The BBC is not responsible for the content of external sites.