Dundee woman treated for flesh-eating bug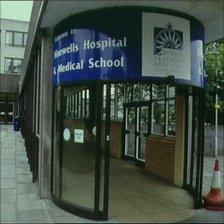 A woman with the flesh eating bug necrotising fasciitis has been treated in Dundee's Ninewells Hospital, health officials have revealed.
The woman, aged over 65, is the first person in Scotland to be admitted with the potentially serious infection this year.
An outbreak of necrotising fasciitis in the early 1990s claimed several lives in central Scotland.
Health chiefs said this case was no cause for general concern.
NHS Tayside declined to give any further details of the case, citing "patient confidentiality", but confirmed the woman had been treated at the hospital.
A spokeswoman added there were "no patients currently in the hospital's infectious diseases unit with necrotising fasciitis".
Health Protection Scotland confirmed NHS Tayside had notified the organisation of one case of necrotising fasciitis.
There were only two notifications of the rare infection across Scotland throughout the whole of last year - one by NHS Tayside and another by Greater Glasgow Health Board.
In the early 1990 a major epidemic of cases claimed several lives in Stirlingshire, including that of 71-year-old Liz Sutherland, sister of former Beruit hostage Tom Sutherland, who died in Bothkennar, near Grangemouth.
Ninewells Hospital-based infectious diseases expert Professor Dilip Nathwani said that necrotising fasciitis was an "infection emergency" and any patient suspected of having the infection would be admitted to hospital.
Treatment involves surgically removing the flesh that has been invaded by the bug in a bid to prevent further spread of the infection.
Serious cases can result in more drastic surgery.
Prof Nathwani said the first difficulty for doctors was recognising the relatively uncommon condition.
He said: "Clinicians may not be able to recognise it in its early form where it can look like an ordinary tissue infection.
"If there is a suspicion of necrotising fasciitis the patient should be admitted to hospital and observed."
He said some patients waited too long to see a doctor and arrived in hospital "in extremis", and in those cases a lot of flesh had to be surgically removed.
The infection can lead to the loss of whole limbs in some patients.
Related Internet Links
The BBC is not responsible for the content of external sites.