Inversnaid school to be shut down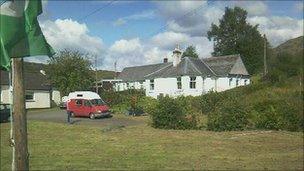 A tiny village school with only two pupils - which costs £108,000 a year to run is to be closed permanently, councillors have said.
Inversnaid Primary, on Loch Lomondside, will shut in June, after Stirling Council accepted the recommendation of its education chiefs.
They also agreed to close Lochearnhead School, which has had no pupils since November 2009.
Both decisions could yet be overruled by Scottish ministers.
A move to close Lochearnhead Primary in 2006 was blocked in this way by the Scottish government, and the school remained open.
In a report given to the council's executive, officials had recommended Inversnaid School be closed and the children be sent to Aberfoyle Primary School, about 13 miles (21km) away.
The decision to close Inversnaid was opposed by its head teacher, Christine Carter - who is also the mother of the school's only two pupils.
Mrs Carter, and the other two members of staff, will be given the option to work at other schools in the Stirling area.
The report revealed that closing the school would save £61,432 in 2011/12 and a further £94,929 in 2012/13. Officials said the money could be better used.
Mrs Carter, and other members of the community, contributed to the consultation - the results of which were outlined in the report.
Councillors were told by education inspectors that there would also be "significant" educational benefits for Mrs Carter's children at the larger school, as there was greater opportunity for "social interaction".
However, the Carters, and other members of the community council, disputed there would be "educational benefits" from moving to another school, and said the quality of teaching the children received was "high".
The report said: "Overall, whilst understanding the need for the council to reduce expenditure on the school estate, the parents of the two children and some members of the local community are not supportive of the proposed closure."
It said Mrs Carter's children were "anxious" about the move, and added: "Their parents are concerned that the level of specialised support for individual children will be reduced if they move to another school."
Related Internet Links
The BBC is not responsible for the content of external sites.