Fiancee stabbing accused 'was attempting suicide'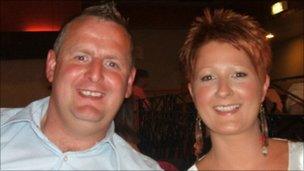 A man accused of trying to kill his ex-fiancee has claimed she ended up with a knife in her neck as she tried to prevent him taking his own life.
Steven McKee, 38, from Slamannan in Falkirk, told the High Court in Glasgow the incident happened the day after the pair were due to get married.
Lisa Whyte, 32, was treated for serious injuries following the alleged struggle on 24 July 2010.
Father-of-two Mr McKee denies attempted murder.
He told the court he was left devastated when Ms Whyte called off their wedding after her hen night in Newcastle, a week before the ceremony was due to take place.
Mr McKee said: "I asked her what was happening. She said that it was over and that she was not going to marry me. I was devastated."
The accused then said he cut up the couple's passports.
The pair and their children had been due to go to Turkey the Friday after the wedding.
The trial was then told that the accused went upstairs and swallowed dozens of pain-killers as he felt he had nothing to live for.
Mr McKee said he had spoken with a friend who suggested talking to Ms Whyte and giving her flowers.
He added: "I would say that even up to the day of the wedding, I thought it would go ahead.
"I had hoped that she would change her mind. Every time I spoke with her, I asked her. But every time, it was a straight down the line 'no'."
He said that on the day of the alleged attack, Ms Whyte had agreed to talk to him at their home in Slamannan.
Mr McKee said he asked about a reconciliation, but Ms Whyte turned him down.
He told the jury: "I wanted to end my life once and for all. I went into the kitchen and grabbed a knife.
"I then went back into the living room. Lisa jumped up, grabbed the knife and it broke."
Mr McKee said he returned to the kitchen and took another knife. He claimed Ms Whyte again tried to stop him self-harming.
The accused wept as he recalled seeing Ms Whyte on the floor. He was asked if he had any idea how it had happened.
Mr McKee said: "There was a knife in her neck." He added that he thought he had killed her.
Prosecutor Stephen O'Rourke later described the accused's version of events as "ridiculous".
He asked Mr McKee: "Are you responsible for the injuries to Lisa?"
Mr McKee said: "She never done it to herself, so I don't know what you are expecting me to say."
The advocate depute went on: "How did you cause the injuries?"
He responded: "Lisa was injured trying to prevent me taking my life."
Mr O'Rourke said: "That is a ridiculous account."
Mr McKee replied: "All I know is that I tried to take my own life and, during that, Lisa sustained severe injury."
Ms Whyte has already told the trial that the accused pounced after telling her: "If I can't have you, nobody will."
Mr McKee, whose wrists were slit, said he then fled from the house and drove to Newcastle.
He said: "I remember being near the River Tyne. I just wanted to die. I was thinking about driving the car through railings into the water."
He was later arrested in Newcastle before being returned north.
Mr McKee is accused of attempting to murder Ms Whyte by stabbing her in the neck with a knife on the morning of 24 July.
The trial, before Judge Lord Kinclaven, continues.
Related Internet Links
The BBC is not responsible for the content of external sites.