'World-class' Dundee University lab to close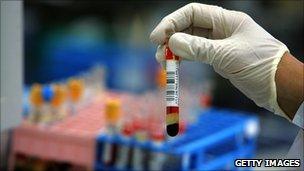 A multi-million pound medical laboratory opened by the first minister less than two years ago and heralded as "world class" is being shut down.
The £11.6m research facility at the University of Dundee was built as the "core lab" for the Translational Medicine Research Collaboration (TMRC).
However, the collaboration said it was now "reviewing its structure".
The laboratory will close on 31 March and the building will then be used by the university's school of medicine.
A TMRC statement said: "The TMRC partners are currently reviewing and evaluating the structure of this collaboration to develop a more sustainable model of operation."
The collaboration is a partnership between the universities of Dundee, Aberdeen, Edinburgh and Glasgow, their corresponding health boards, Scottish Enterprise and global pharmaceutical company Wyeth.
It was founded in 2006 with a Scottish Enterprise grant of £17.5m.
The Dundee laboratory was opened in April 2009 as the TMRC's core research facility "responsible for promoting innovative and novel scientific developments" and described as "world class" by the university's Professor Peter Downes.
Scientists working there have been developing new drugs and treatments in five main areas - cardiovascular, women's health, neurology, oncology and inflammation.
Scottish Enterprise said at the time that 50 jobs would be created at the "state-of-the-art" lab, "rising to as many as 120 over five years".
But the university said not many more than 30 scientists had been employed there during the 22 months it has been open.
A University of Dundee spokesman said: "It was a five-year deal. It was always to be reviewed at the end of that five-year period.
"Back in August and September last year, the TMRC decided they would not need the central lab at Dundee University."
"Research will continue at the other partner institutions across Scotland."
The spokesman said 28 university employees were currently working at the research lab.
"We are redeploying 11 to other areas of the university. Seven have moved on to alternative employment and another one has retired," he said.
"Nine staff are left, but we are working as hard as possible to find redeployment opportunities for them. We are committed to avoiding compulsory redundancies as far as possible."
The building was leased to the TMRC, and now reverts back to the university.
It will be used by the school of medicine and the university said scientists working there may do TMRC work in future.
The spokesman said the decision to close the laboratory was taken after a review of the way the whole project was working.
"It's just a different way of working," he added.
Related Internet Links
The BBC is not responsible for the content of external sites.