Stab accused Steven McKee 'acted on instinct'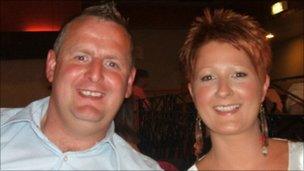 A man accused of attempting to murder the mother of his children was acting on instinct, a court has heard.
A psychologist said Steven McKee, on trial for trying to kill his ex-fiance at their home, was not behaving with "foresight and forethought".
Lisa Whyte, 32, was treated for serious injuries to her neck following the alleged struggle in Slamannan, Falkirk, on 24 July 2010.
Father-of-two Mr McKee denies attempting to kill her in July 2010.
Jurors heard on Friday that he was left devastated when Ms Whyte called off their wedding after her hen night in Newcastle, a week before the ceremony was due to take place.
Erica Robb, a consultant clinical forensic psychologist, told the High Court in Glasgow that Mr McKee provided enormous detail of the days leading up to and following the alleged murder bid.
She said: "He welcomed someone to put his side of the events to."
Derrick Nelson, defending, asked Mrs Robb if the accused had told her about Ms Whyte's refusal to get back together with him.
Mrs Robb answered "yes" and, on being questioned further, said that he only remembered "snippets" of what had happened.
The jury was told by Mrs Robb that it was difficult to be clear about what happened during the incident because there were only two people present.
Mr McKee and Ms Whyte would have been acting instinctively, the court heard.
Cross-examining Mrs Robb, advocate depute Stephen O'Rourke, prosecuting, said: "You will be aware that Lisa Whyte said in her statement that McKee said 'If I can't have you no-one will' and came at her with a knife.
"Is it your evidence that if that account is correct that Mr McKee is acting instinctively?"
Mrs Robb answered: "He wasn't acting in a way that suggested planning, foresight and forethought."
Mr McKee told the jury on Friday that Ms Whyte ended up with the knife in her neck as she tried to prevent him taking his own life.
The alleged stabbing happened the day after the pair were supposed to get married.
The trial, before Lord Kinclaven, continues.
Related Internet Links
The BBC is not responsible for the content of external sites.