Denny revamp purchase order plans backed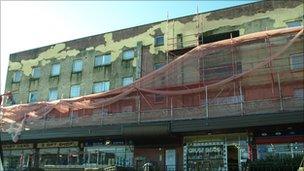 Councillors in Falkirk have backed the use of compulsory purchase orders while rebuilding a crumbling town centre.
The council said the orders would help "accelerate" plans to demolish Denny's Church Walk blocks - a central part of the town's regeneration.
A sum of £300,000 has also been made available for the purchase of key properties in the next financial year.
Campaigners in the town have complained fiercely about the repeated delays to a revamp first proposed in 2004.
Falkirk Council put the £15m regeneration of Denny on hold early in 2010 because of the recession, but announced in June that a less ambitious plan had been agreed with the developer Henry Boot.
The 1960s Church Walk blocks - which have recently required repairs to make them safe - are scheduled to be demolished in autumn 2011.
A spokesman for the council said the tender process for the demolition work in Duke Street and Stirling Street had started.
Detailed planning applications are due to be submitted by Henry Boot in the next few months.
Craig Martin, policy and resources convener, said: "This is a significant step forward for the town and its residents and retailers.
"By invoking CPO powers we can ensure that there are few, if any, problems that we will have to overcome that could prevent the community from benefiting from our determined efforts to see a successful transformation."
Mr Martin said the council was still negotiating with retailers to reach a "mutual consensus" over the purchases.
But David Alexander, leader of the SNP group at Falkirk Council, said the administration should have approved the use of compulsory purchase orders years ago.
"What we have are delays and incompetence and these failings shouldn't be presented as either good news or progress," he said.
The regeneration plans include a new food store, retail units and library, as well as improved roads and pedestrian access.
Related Internet Links
The BBC is not responsible for the content of external sites.