Neds 'not welcome' at T in the Park festival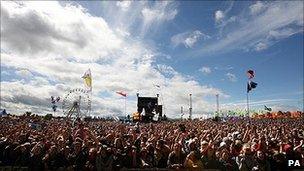 Neds will not be welcome at this year's T in the Park festival, the event's organiser has said.
Geoff Ellis said he had no plans to enforce a dress code at the festival, but added: "Neds are not welcome, just to clarify that."
The comments were made during an interview with Scottish music scene website The Pop Cop.
It was announced on Tuesday that Arctic Monkeys and Coldplay will join Foo Fighters as 2011 headliners.
In the interview with The Pop Cop, Mr Ellis was asked: "Will T in the Park be following RockNess and banning ned attire from being worn at the festival?"
He answered: "It's not about what you wear, it's about who you are. Listen, you can be a ned in a suit.
"If you take a ned to mean somebody who is out to cause trouble, those are people we don't want to come to T in the Park anyway.
"We've no plans to put a dress code into T in the Park, that would be quite draconian. But neds are not welcome, just to clarify that."
The response has been widely discussed on social networking websites, with some criticising the "fairly repulsive" remarks.
One Twitter user said: "The word 'ned' is lazy term usually used by people trying to describe young, working class, uneducated men."
Another added: "I think he is reinforcing the cliche by saying that word and social profiling sucks."
The 2011 festival will run from 9 to 11 July.
About 85,000 people are expected at the event, held at Balado in Perth and Kinross.
Related Internet Links
The BBC is not responsible for the content of external sites.