X Factor's Gamu told to leave UK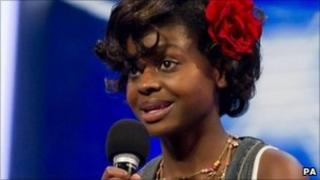 Former X Factor contestant Gamu Nhengu faces being sent back to Zimbabwe following a new Home Office ruling.
The 19-year-old singer was ordered to leave the UK last year after her mother Nokuthula Ngazana's visa renewal was turned down.
But Ms Nhengu and her family, who live in Clackmannanshire, were hopeful they would be able to stay after officials decided to reconsider their case.
The family's lawyer Frances Farrell said an appeal would be lodged.
Ms Farrell added that the family were "disappointed" by the latest ruling.
A statement said: "The decision will be vociferously challenged before an independent tribunal.
"No steps can be taken to remove our clients during the appeals process."
Ms Nhengu and her family have lived in Tillicoultry for several years after coming to Scotland from Zimbabwe.
The singer was allowed to stay in the country as a dependant while her mother studied at university.
She went on to become a household name when X Factor judge Cheryl Cole failed to put her through to the live shows, favouring Cher Lloyd and Katie Waissel.
Gamu's mother's visa expired in August 2010 and the family's application to remain was rejected as they did not meet Home Office criteria.
The family was told in October to leave the UK voluntarily or face being removed from the country but got a reprieve when granted a full appeal hearing before a judge in Glasgow.
Before proceedings began, the Home Office said it would reconsider the case.
Mrs Farrell said the family had been left to read about their fate in the Sunday press as a letter about the decision was only posted to them on Friday.
She said: "The Home Office cannot claim to uphold the law when its promises of confidentiality are worth nothing to this family who seeks to remain in Britain."
A UK Border Agency spokeswoman said: "The applications made by Ms Ngazana and her family have been reconsidered in line with our immigration rules.
"Ms Ngazana's application was refused as it did not meet the conditions for approval. Her family, who had applied as her dependants, were therefore also refused.
"We will be investigating how this decision became public before Ms Ngazana was informed."