Appeal over Sauchie 'German wall' mystery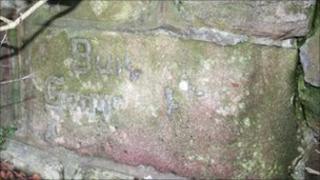 School children in Clackmannanshire are hoping to solve the mystery of a wall apparently built by German prisoners of war in the 1940s.
The stone construction in Sauchie is known as the "German wall" - but the council said it had no records of Germans being held prisoner nearby.
Italians were held at a camp just half a mile away in Fishcross.
Pupils at Craigbank Primary School visited the wall as part of their studies on World War II.
They wrote to Clackmannanshire Council after the class trip, hoping to raise awareness of the wall and find out more about it.
The wall can be seen throughout Sauchie and seems to have been made with re-used stone and has distinctive pointing.
A badly worn plaque on one section appears to say "Built by German POWs" and is dated 1942 or 1943.
Clackmannanshire Council said it could have been built by members of the Polish Free Army, many of whom settled in the county after the war ended.
The authority has now appealed to people who lived in the area during World War II to get in touch with their memories of prisoners of war.
Council leader Sam Ovens said the wall deserved more recognition.
"As the years pass it becomes more and more difficult, especially for young people, to relate to the terrible events of the Second World War," he said.
"If this small piece of local history helps the community to gain an insight into the lives of those who served, it is a tangible way to ensure that we never forget the price paid for the freedoms we enjoy.
"If you can shed any light on who built this wall and when, please do get in touch."