Dundee University staff announce one-day strike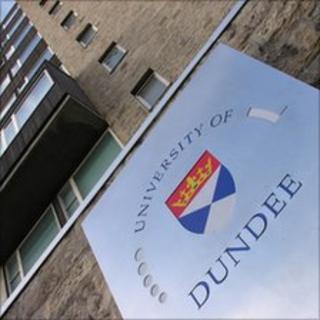 Staff at Dundee University are to stage a one-day strike over the threat of compulsory redundancies.
The 24-hour strike on 8 March will bring the university virtually to a "standstill", union leaders said.
Dundee University and College Union (DUCU) said it feared about 193 people could be made compulsorily redundant.
But a university spokesman said this figure was "completely false" and that compulsory redundancy would only be used as a "last resort".
The university's governing body announced in October that almost 200 jobs could be cut in a bid to save £8m a year.
The university has said most of these job cuts will be made through "natural wastage" and a voluntary severance scheme, which is still open.
A ballot by members of the DUCU voted for strike action in January.
The union said its members were "alarmed and concerned" at the threat to the equality of education as a result of Scottish government cuts to higher education.
'Give up pay'
A union statement said: "Dundee UCU has called upon Dundee University to rule out compulsory redundancies.
"The union further calls upon the senior management to match the loss of a day's pay of the staff striking by giving up a day's pay for higher education."
Members also fear the university will not be able to fulfil legal duties to disabled students and staff if a review of the work of Disability Services led to the closure of a regional office, the union said.
A Dundee University spokesman said it was "disappointed" at the Dundee UCU announcement after having "positive discussions" with the unions on a number of issues.
"The university sees continuous and constructive dialogue with the unions as being the way forward instead of disruptive action.
"As we have consistently stated compulsory redundancy would only ever be used as a last resort in reducing staff numbers."
The spokesman added that linking the Disability Services review to strike action was "unhelpful" as any changes would only be made after full consultation with staff and students.