Dundee college diploma 'lost in post' since 1970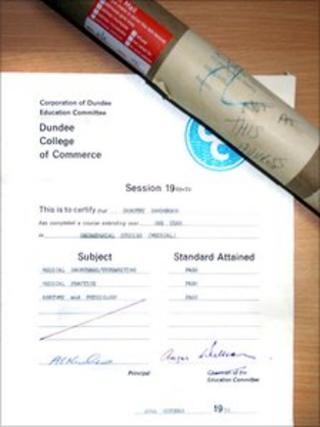 A diploma posted to a Dundee student in 1970 has been returned to the college after going missing for more than 40 years.
The certificate for medical secretarial studies was sent to Dorothy Sanderson in Arbroath after she successfully completed the one-year course.
But it has just been returned to Dundee College with "not at this address" written across the package.
The diploma required passes in typing, shorthand and medical practice.
A Dundee College spokesman said: "Some of us can't help wondering if Dorothy was able to pursue her chosen career without her diploma?
"We would be delighted to present it to her in person, though we suspect she may well be considering her retiral rather than embarking on a career now."
College move
The certificate is signed by the principal AG Newlands and Angus Wallace, chairman of the Dundee Corporation education committee.
It was awarded by the Dundee College of Commerce, which existed until 1986 when it merged with Kingsway Technical College.
Dundee College - which was formed after the merger - said the diploma had been sent to an address in Montrose Road, Arbroath.
The college is itself moving to a new address at the end of this academic year.
"Just as well we received the scroll when we did - after the summer, Dundee College will also be 'not at this address'," the spokesman said.
A Royal Mail spokeswoman said: "It is unlikely that this item of mail has been in our system for that length of time.
"It is most likely that it has been reposted into the system and subsequently we would then have a duty to deliver it."