Rare clock found under leaf pile in Stirling church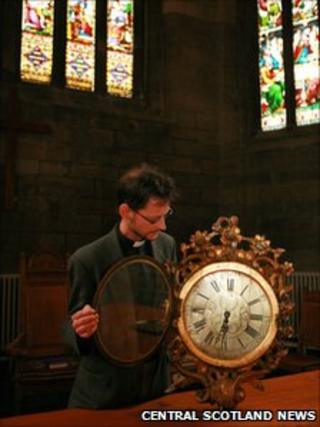 A rare 250-year-old gilded clock, worth thousands of pounds, has been found under a pile of leaves in one of Scotland's most historic churches.
The ornate "ormolu" clock once hung on the wall of Stirling's Church of the Holy Rude, founded in 1129.
The two-feet-tall clock had not been seen for 75 years.
Property convener Douglas Tod found the clock when clearing a pile of leaves and dirt that had gathered near a vent in a boiler room.
The church was divided in two in 1656 after an argument between two ministers, and the clock is thought to have hung on the dividing wall in the East Kirk.
When the wall was removed and the congregations reunited in 1936, the clock, bought between 1760 and 1780, was put into the church's newly-built boiler room for storage - with a tag reading "Not To Be Taken".
'Spectacular' clock
Mr Tod said: "When the two halves of the church were reunited several items were put away for safe-keeping. The clock was put into storage but it was of such value that a tag was attached to ensure it wasn't mistaken for junk and thrown out.
"It was put on a ledge by a vent in the boiler room and over the years was covered by leaves which were blown through the slats.
"I cleared some of the dead leaves and grime with my hand and saw emerge the gold leaf. It was so dirty I didn't realise it was a clock at first. Remarkably, nobody had seen it for 75 years."
Mr Tod said the clock would have been "spectacular" in its day and displayed somewhere very obvious.
The timepiece, made by "Goodfellow, of Carlisle" and featuring its original movement, will be worth thousands of pounds once restored.
Present minister Rev Allan Miller said: "Sermons were much longer then - less than an hour and the congregation would have felt cheated. It is possible the minister of the time would have timed his sermon by this clock."
He added: "It is worth a lot of money but we have no intention of selling it - it's part of the church's heritage.
"It would be nice to have it restored and brought back into working condition."
Elspeth King, director of Stirling's Smith Museum, described the clock as "a treasure", adding: "In 18th Century Stirling the only clock may have been at the Tollbooth, so to have such an impressive clock in the parish church would have been a symbol of status.
"It would also have been very expensive, and must have been a gift from a rich benefactor."