Dundee diploma lost for 40 years claimed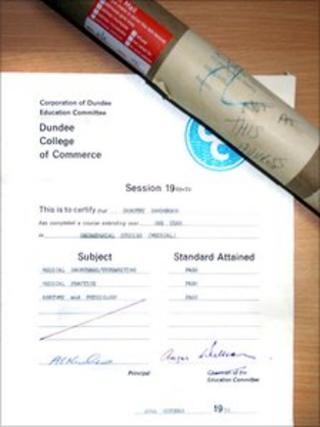 The widower of a woman whose diploma from a Dundee college went missing in the post 40 years ago has said he is looking forward to receiving it.
The certificate was sent to Dorothy Sanderson in Arbroath, Angus, in 1970, but never reached her.
She died in 1995, but her widowed husband Dr Andrew Scott was traced after a relative contacted the BBC.
Dundee College received the diploma in the post on Thursday, marked "not at this address".
It had been issued by the then Dundee College of Commerce when Miss Sanderson passed her one-year medical secretarial studies course in 1970 and sent to an address in Montrose Road, Arbroath.
Dr Scott said: "It just seems surprising after over 40 years. I hadn't been aware that she hadn't had one - but I don't remember seeing it either.
"It didn't seem to hinder what she wanted to do because she was still able to get work as a medical secretary."
Dr Scott, who now lives in Heswall, Wirral, said his wife had worked in Dundee for a year before joining him in Aberdeen, where she found work at the city's Royal Infirmary.
'Bits and pieces'
The couple were married in 1973.
He added: "It would be nice to have it after all this time, because I've got one or two of her old bits and pieces but it would be nice to have the actual diploma."
Dundee College said the diploma would be sent to Dr Scott as soon as possible.
A spokesman said staff were "saddened" to hear Mrs Scott had died at such a young age, but were pleased she had pursued a successful career as a medical secretary.
The Royal Mail said it suspected the package had been "reposted" rather than being lost in the postal system for such a long time.