Man guilty of Dollar abduction and sex attack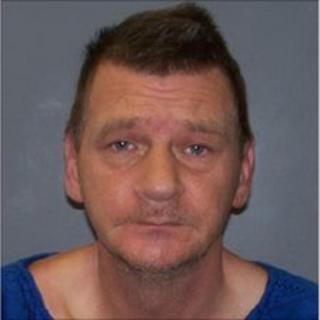 A man snatched a schoolgirl off the street and drove her to a secluded spot to photograph her performing a sex act, a court has heard.
James McMillan, 40, told the teenager the pictures were going on the internet and would earn him "lots of money".
The father-of-three, from Tillicoultry in Clackmannanshire, admitted abducting and assaulting the 14-year-old in Dollar on 21 June 2010.
Judge Lord Bracdale deferred sentencing until 26 April.
He also placed McMillan, who is in custody, on the sex offenders register.
The High Court in Edinburgh heard how McMillan had forced the teenager to remove her clothing after taking her to a track near Linn Mill.
After the ordeal he sprayed the girl's hands with cleaning fluid, telling her: "I'm going to drive away and if you turn around I'll kill you."
When McMillan was later tracked down by police he was unable to give any explanation for his crime.
Advocate depute Alex Prenctice QC said McMillan said "he had just hated the world and 'wanted somebody hurt'."
Knife threat
The court was told that the girl had set off for school when she heard a vehicle behind her. She then heard "clomping" footsteps and saw McMillan walk past her, then suddenly turn to face her.
He grabbed her by the wrist and told her: "You are coming with me."
Mr Prentice said: "The victim said that she was not going with him and that he could take anything from her."
McMillan began pulling her and the teenager saw that he was holding what she believed was a knife. She did not offer further resistance.
He took her by the arm and walked her to a green car parked in the High Street. The girl spotted a friend of her brother, but was too scared to shout and silently mouthed the word "Help".
The boy noticed her gesture but did not understand what was going on.
The court heard that McMillan threatened to pull his knife back out when the girl asked not to make her get into the car.
He also told her to stop mouthing "help" at other pupils that they passed in the car.
"He appeared to be calm apart from when he ordered her into the car. At one point during the car journey she asked the accused whether he was going to hurt her, to which he replied 'I don't know'," said Mr Prentice.
McMillan drove onto a farm track and went to a fenced compound. He picked up a mobile phone and got into the back of the car.
Denied involvement
He used the phone to take a series of pictures and told the girl they were going on the internet and would earn him lots of money.
McMillan then got the victim to perform a sex act before abandoning her at the scene.
Central Scotland Police traced McMillan to his mother's house in Clackmannan after a five-month investigation.
During initial interviews he denied any involvement in the offence and said he was not in Scotland on the day.
But he later told officers that he needed help as he did not know why he had done what he did.