Hunt for dangerous driver over 'fatal crash' fear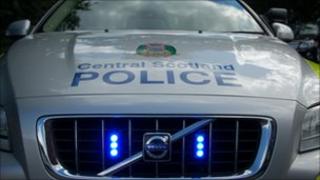 Police are hunting for a man who is regularly terrorising other motorists on a central Scotland road with his dangerous driving.
Officers have received a number of complaints about the driver's speed and dangerous overtaking on the A84 and A85 between Killin and Callander.
On one occasion, the man tailgated an off-duty officer at night and then overtook her on a blind bend.
Police fear he could cause a fatal crash if he is not caught soon.
The man, thought to be about 20, drives a relatively new, dark coloured hatchback, such as a Ford Focus or Vauxhall Astra.
Lochearnhead's community officer, Pc Andy Ward, said the car travelled the road most nights and in particular Monday, Tuesday and Thursday between 1900 and 2100 GMT.
'Blinded' by headlights
The officer said: "On one occasion, having overtaken another car in such a dangerous place, the driver of the second car had to stop for five minutes to get over the shock.
"Another report was from a driver from Derbyshire who was forced to brake suddenly because the driver of the suspect car had carried out such a dangerous overtake it nearly caused a head-on smash."
Pc Iona Frickleton said she had been tailgated by the man all the way up Glen Ogle while off duty, but had been blinded by the driver's headlights and had only been able to see part of the registration plate.
And Pc Ward said he had also seen the driver near Loch Lubnaig while off duty, driving "straight across all bends", but going so fast the officer was also unable to see the registration.
Anyone with information about the driver is being urged to contact Central Scotland Police.
Pc Ward added: "There is no doubt in my mind that this person has no regard for the safety of other road users and it is only going to be a matter of time before his luck runs out and he causes a serious accident which could well end up with a fatality.
"At this time I have identified a driver who fits the profile provided, however I am making further inquiries with regards to the person's driving status."