Stirling University to face 'protracted' strikes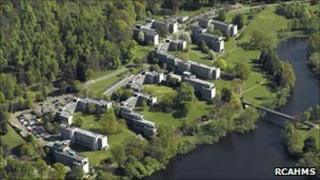 Stirling University faces "protracted" strike action over plans to make 17 members of staff compulsorily redundant, union bosses have said.
The University and College Union said it would ballot members over cuts at the Institute of Aquaculture, endorsed by the university's governing body.
The posts have been axed because of "continued financial losses" at the department, the university said.
Union members are also planning strike action on Thursday over pensions.
The union claims no university has ever made more than one or two individuals compulsorily redundant.
And bosses said the Institute of Aquaculture was being targeted because it did not make a "surplus" in the university's internal budget process.
'Unique institute'
The union argued that it was not a "fair way" to evaluate the institute as its work was mainly research-based.
The university court agreed on Monday to scrap 17 of the 69 posts at the institute.
UCU Scottish official Mary Senior said: "We oppose compulsory redundancies at the University of Stirling and are astounded that such a unique institute so vital to Scotland's economy is being cut.
"This is a classic example of a university knowing the price of everything but the value of very little. Although the institute doesn't fit in to the obscure planning budgets of the university, it is vital to our fish farming industry."
Ms Senior added that the court's decision to "rubber-stamp" a management plan exposed a "worrying lack of accountability".
Financial losses
A university spokeswoman said it had taken action to secure a "strong and sustainable future" for the institute following a review.
"During this detailed review and consultation process, which lasted several months, the university identified operational savings and enhanced income generation that reduced the institute's original recurring deficit of over £2m to £1.4m," she said.
"However, in the face of continued financial losses at the institute and the remaining £1.4m deficit, the university has taken the difficult decision to cut 17 staff posts from a total complement of 69."
The spokeswoman said the university would remain open on Thursday and that classes would be held as scheduled.
Union members in 15 Scottish universities will take part in a strike over a separate UK-wide dispute over proposed changes to pensions.