'Big Mags' grandson's killer Jack Cramb jailed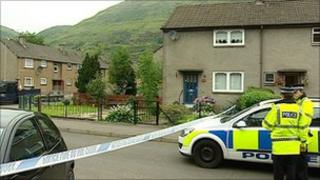 The teenage killer of the grandson of Margaret "Big Mags" Haney has been jailed for life.
Jack Cramb, 19, attacked Barry Bradley in Alva, Clackmannanshire, last July, with a piece of broken glass.
He slashed the 19-year-old on the neck, cutting his carotid artery and jugular vein.
Cramb claimed he was acting in self-defence but a jury convicted him of murder after a trial at the High Court in Glasgow.
Judge Lord Kinclaven ordered Cramb to serve at least 16 years behind bars.
Frances McMenamin QC, defending, said Cramb's remorse for what had happened was genuine.
But the judge told the killer: "The result of what happened is a tragedy for all those concerned. You will have to live with your actions for the rest of your life.
"The courts must act in a way that discourages the carrying and use of sharp weapons. Their use can lead to needless deaths."
'Spurting blood'
Mrs Haney and other family members at the court hugged each other as the sentence was passed.
The trial heard that the fatal attack happened on Dalmore Drive in Alva on 25 Jul 2010.
Witness Louise Kelly told the court how she saw Mr Bradley staggering outside her home with blood spurting from his neck.
Ms Kelly said she then spotted a "smirking" Cramb with two other friends.
Cramb claimed during the trial that he had used a piece of broken glass to keep Mr Bradley away from him.
He said his victim was lying on top of him and he lashed out, but did not mean to hurt him.