Drunk child search woman given community service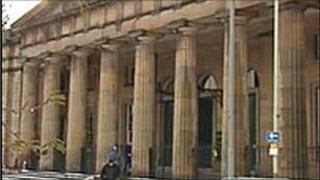 A woman has been sentenced after sparking a major police search for a boy who was not missing.
Vicky Anderson, 35, had claimed the four-year-old child had vanished from a shop while in her care.
However, Perth Sheriff Court heard that Anderson had been so drunk in July last year she was unaware the child was safely with his mother.
Sheriff Lindsay Foulis ordered her to carry out 120 hours community service for wasting police time.
The court was told that about 30 officers, including a dog handler from Tayside Police, were mobilised in response to reports the child had disappeared.
Fiscal depute John Malpass said Anderson had ultimately wasted 39 hours of police time and had also kicked and stamped on an officer when told she was being charged with wasting police time.
He said that Anderson was so drunk at the time of the incident that she believed she had been looking after the boy with her partner and that they had lost him in a shop close to their home in Perth.
The boy was found safe and well with his mother 15 miles away. Anderson admitted she had been so drunk she had been deluded into believing he was with her.
The court was told that the search began after she ran barefoot screaming into a local shop and claimed hysterically that she had lost the boy who was staying with her.
Shop staff were so concerned they called the police and when officers arrived at Anderson's home she insisted that the toddler had gone missing.
No explanation
Mr Malpass said Anderson claimed the child was missing but would not co-operate when police asked her for more information about what he had been wearing.
As officers subsequently informed Anderson she was being charged with wasting police time, she lashed out and kicked Pc William Hughes and then stamped on his foot.
Anderson, of Moulin Crescent, Perth, admitted wasting police time on 27 July 2010 and assaulting the officer in Tweedsmuir Road in the city.
Solicitor Rosemary Scott, defending, said her client had no explanation for her behaviour and was simply so drunk she had become confused and deluded.
Sheriff Lindsay Foulis said: "This was a waste of everyone's time caused by you and your former co-accused having goodness knows how much to drink. Neither of you were aware that you never had the four-year-old in your care.
"What I am finding difficult to understand is that you have had so much to drink you have become delusional. The police have got to act on the basis of the information given."