Crackdown on anti-social behaviour at Loch Lomond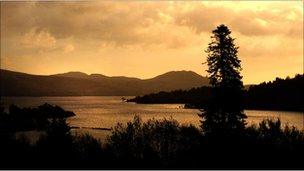 A six-month operation aimed at tackling anti-social behaviour within Loch Lomond and the Trossachs National Park, has been launched by Central Scotland Police.
The Operation Ironworks initiative will provide high-profile patrols in the beauty spot in a bid to crackdown on irresponsible behaviour.
Officers said that a "small minority" spoiled the park for the majority.
This is the fourth year that Operation Ironworks has been in place.
The initiative is a partnership between Central Scotland Police alongside the Forestry commission and rangers from the national park as well as officers from Tayside and Strathclyde Police.
Leading the operation, Ch Insp Kevin Findlater, said: "Prior to Operation Ironworks starting in 2008 we knew families didn't want to come to the National Park because of the anti-social behaviour that was being carried out by a minority of people.
"Unfortunately the minority spoil it for the majority with their behaviour, vandalism and littering.
He added: "Due to the work we have carried out with our partners we are seeing more young families visiting the park and we are keen to maintain that trend."
The three forces will carry out various initiatives targeting anti-social behaviour issues, including damage to property, irresponsible fires, litter, road safety, wildlife and environmental crimes and noise disturbance.
Ch Insp Findlater said that this year's operation had also been helped by the recent announcement of a national park bylaw to restrict informal camping along part of East Loch Lomond, along with the introduction of a ban on the consumption of alcohol in public within the same area.
Fiona Logan, chief executive of the Loch Lomond and The Trossachs National Park Authority, said: "We are delighted to be a part of Operation Ironworks once again.
"Having proved successful in previous years and with the addition of the camping and drinking bylaws this year, we are very hopeful that the broadest possible range of visitors will come and enjoy all the national park has to offer."
Related Internet Links
The BBC is not responsible for the content of external sites.