Homes powered by Stirling landfill waste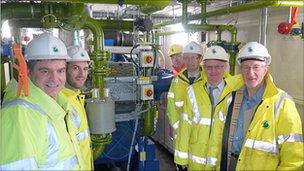 Two million tonnes of waste from a former landfill site is being used to generate 0.6 megawatts of green electricity, it has emerged.
The green energy comes from waste materials at the Stirling Council site at Lower Polmaise.
Councillors said the electricity, which is fed into the national grid, provides enough energy to power about 900 households.
The project is one of the first of its kind in Scotland.
Gas from the decomposing landfill is captured by a network of 38 pumped gas wells throughout the capped and restored landfill site, and fed to a combustion engine which, in turn, generates the electricity.
The residual heat from the process is also captured and used to improve the on-site wastewater treatment process.
Councillor Jim Thompson said: "The success of this project further emphasises Stirling Council's continued commitment to work towards a more sustainable and environmentally-focused future.
He added: "Through innovative and efficient waste, recycling and re-use practices, coupled with the benefits of renewable energy sources, this further contributes to the ongoing reduction in the council's carbon emissions".
The scheme is a partnership between the council, Renewable Power Systems and Scottish Power.
Related Internet Links
The BBC is not responsible for the content of external sites.