Court moves to Sylvester Nowak's hospital bedside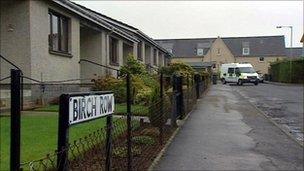 A court moved to a pensioner's hospital bedside so he could make an appearance in connection with the attempted murder of two police officers.
The sheriff made the rare move to formally convene the court at Perth Royal Infirmary where Sylvester Nowak, 98, is being treated.
The court clerk, procurator fiscal depute and defence agent also attended.
Mr Nowak was fully committed for trial and remanded at a psychiatric hospital.
No gowns or wigs were worn during the proceedings, which were heard in private.
Mr Nowak, who is alleged to have used an axe and a knife to try and murder two female officers from Tayside Police, was fully committed for trial and remanded to Murray Royal psychiatric hospital.
The Polish war veteran is alleged to have severely injured WPC Shona Beattie, 42, and attempted to murder her by stabbing her on the arm with a knife.
He is also alleged to have tried to murder her colleague WPC Katie Deas, 23, by attempting to strike her head and body with a knife and an axe.
Mr Nowak, who is believed to be the oldest person ever to be held in custody by Scottish police, initially appeared at Perth Sheriff Court last week.
He is alleged to have carried out the offences at his home in Scone, Perthshire, on the afternoon of Tuesday 29 March.
After his first appearance, Mr Nowak - who is virtually deaf and only has the use of one eye - was taken to Murray Royal psychiatric hospital to undergo assessment for 28 days.
Due to his physical condition he was later transferred to Perth Royal Infirmary, where staff from the psychiatric hospital are maintaining a round-the-clock watch on him.
Mr Nowak, known locally as Eddie, formerly worked as a welder for a coachworks firm in Perthshire and was formerly a prisoner of the Nazis during the war.