Honour after housekeeper rescues countess from fire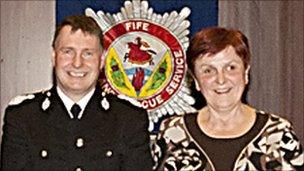 The housekeeper to the dowager Countess of Dundee has been honoured for her "distinguished conduct" after she saved her employers life.
Fife Fire and Rescue Service gave Eva Pollokova, 55, the award after she rescued Lady Patricia from a fire at the countess' home in Fife last year.
The incident left both Eva and the countess needing hospital treatment.
A spokesman for the fire service said "Eva's selfless act saved an elderly lady from more serious harm".
Ms Pollokova, who is from the Czech Republic, was in her room when she heard the smoke alarm sounding.
She investigated and found Lady Patricia on the floor of her bedroom and her bedding on fire.
She tried to put out the flames to no avail then led Lady Patricia to safety.
Dressed only in her pyjamas, Ms Pollokova then ran barefoot to nearby cottages to raise the alarm.
Lady Patricia suffered from smoke inhalation and was admitted to hospital.
Ms Pollokova also suffered minor burns and smoke inhalation.
The award, from the chief fire officer of Fife Fire and Rescue Service, is given to members of the public who place themselves in a position of danger to save life.
Related Internet Links
The BBC is not responsible for the content of external sites.