'Tay beaver' died at Edinburgh Zoo due to septic shock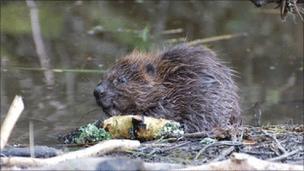 A beaver captured on the River Tay died at Edinburgh Zoo from septic shock, the Royal Zoological Society of Scotland has said.
An independent post-mortem examination was carried out on the animal, which was nicknamed "Erica".
The death led to calls from campaigners to end the policy of "re-homing" beavers living wild on the River Tay.
Simon Girling, head of veterinary services at the zoo, said there was no evidence of concerns for other animals.
He said a small splinter of "plant material" found in the beaver's leg would have allowed bacteria to enter her body.
"There was no visible abscess, indicating the infection was rapid in onset and caused a septicaemia resulting in septic shock, the course of such disease often being less than six hours and often as in this case with no warning clinical signs," he added.
"Septicaemia can potentially be caused by any environmental bacteria and there is no evidence of any concerns for other animals."
Scottish Natural Heritage issued the trapping order for the wild River Tay beavers in November. Many of the animals, escaped from private collections in Angus and Perthshire, have begun to breed.
It said the beavers' presence would "subvert and undermine" Scotland's position in carrying out trial reintroductions of species according to "best scientific practice".
But the order was opposed by the Scottish Wild Beaver Group.
The group said the death of the beaver had emphasised the "cruelty and folly" of the attempt to trap and remove the animals.
Related Internet Links
The BBC is not responsible for the content of external sites.