Computer games firms win prototype funding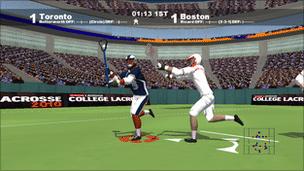 Six start-up games industry firms have secured funding in the first round of a £5m investment project run by Abertay University.
The start-ups were among nearly 60 companies from across the UK who applied to Abertay's prototype fund.
Each company will receive £25,000 and gain access to a 'talent pool' of skilled students and graduates.
The prototype project aims to create 30 new companies and up to 400 new jobs in the games industry.
It is co-funded by the European Regional Development Fund, the UK government and Abertay University.
The university hopes the fund - which is open to applicants from across the UK - will benefit the Dundee video games industry, which has been leaking jobs in the past year.
Successful Scottish applicants in the first round included Edinburgh-based 14 Principles - which provides tools, training and consultancy to make small games development teams more effective.
Another winner was Triple B Games, an indie developer based in Dundee which has released several titles, including the first lacrosse game on the Xbox 360.
Paul Durrant, director of business development at Abertay University, said: "There has been a very high level of interest in the prototype fund and the project has already been cited as an excellent example of targeted support in the recent Scottish Affairs Committee report on the games industry.
"As well as allowing young companies the opportunity to develop a working prototype to secure further investment, the fund will also provide a fantastic opportunity for students and graduates to develop their skills by working on the successful projects."
He added: "However, we still recognise there are many challenges facing games development start-ups, particularly with self-funded operations which may not have sufficient working capital to apply in the first place."
Independent analysis of the short-listed applications was conducted by independent games research company Games Investor Consulting.
Founder and director Nick Gibson commented: "This industry is in a perpetual state of flux driven by a constant flow of innovation and new ideas.
"Abertay University's prototype fund is a fantastic opportunity for developers to try out new games product and service ideas that anticipate future market demand, or even look to create new niche markets that no-one else has yet considered."
The funding comes as Dundee strives to maintain its reputation as an attractive location for the video games market.
Outplay Entertainment - which specialises in mobile and social media games - announced in February it was setting up its base in the city, creating 150 jobs.
But the news followed the collapse of Dundee-based Realtime Worlds, one of the UK's leading video games developers.
Related Internet Links
The BBC is not responsible for the content of external sites.