St Mary's Monastery 'at risk' over housing rejection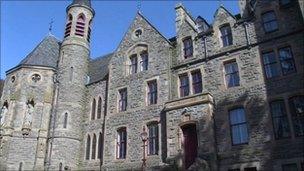 A monastery on the outskirts of Perth is facing closure after planners turned down proposals to sell land for housing, a religious order has warned.
St Mary's Monastery at Kinnoull Hill is more than 140 years old and operates mainly as an ecumenical retreat.
The Redemptorist Order that runs it said the plan would have helped fund £2.4m of refurbishment work.
However, council officials rejected plans for 19 houses after 38 objections were received.
The Catholic order said it had hoped to secure the long-term future of the Grade B listed building by selling land to Cala Homes.
The partnership was started after an application for lottery funding was turned down.
Councillors turned down the proposals after officials warned it would damage the landscape.
The Order said it may appeal the decision.
Related Internet Links
The BBC is not responsible for the content of external sites.