Drunk man spat in toddler's face in Stirling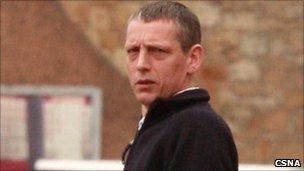 A man who spat in the face of a two-year-old girl after drinking 15 bottles of lager has been placed on probation.
Construction worker James Lowdon, 41, pleaded guilty at Stirling Sheriff Court to assaulting the toddler.
The court heard the victim was being looked after by Lowdon's mother at the time of the incident in December.
Lowdon targeted the child after turning up at his mother's house in Stirling on a Saturday afternoon while heavily under the influence of alcohol.
Susannah Hutchison, prosecuting, said: "He was seen to spit in the baby's face.
"His mother became upset and asked him why he had done such a disgusting act, but he simply left the room and went to bed while his mother cleaned up the baby's face."
Ms Hutchison said the child, who cannot be identified for legal reasons, was not physically harmed.
He was arrested and interviewed and tried to insist he had simply coughed.
He told officers he had consumed "15 bottles of Stella" before the incident.
Asked if he was drunk, he replied: "No, I normally drink double that on a Saturday."
Virgil Crawford, defending, said Lowdon was "reluctant to admit even to himself" what he had done.
Sheriff William Gilchrist told Lowdon that spitting on the child had been "an appalling thing to do".
He added: "In the absence of any other rational explanation, the amount of alcohol you consumed that day must explain your behaviour and therefore your alcohol problem should be addressed."
He placed Lowdon on probation for 12 months, with a condition he should undergo alcohol counselling.
Related Internet Links
The BBC is not responsible for the content of external sites.