Broughty Ferry Level crossing misuse 'chilling'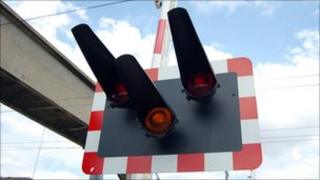 Police have described as "chilling" the results of a two-month surveillance operation to assess driver behaviour at a level crossing in Broughty Ferry.
British Transport Police said 46 offences had been detected and 31 people reported to the procurator fiscal since mid February.
The crackdown followed a spate of incidents where drivers ignored safety barriers at the crossing.
The force said the operation would now proceed indefinitely.
Insp Angela McGregor said: "These figures are chilling.
"Our camera enforcement van and officers have been deployed in the area in response to a number of incidents when drivers drove over the level crossing when the barriers were in the process of being lowered."
She added: "Hopefully by drawing attention to these reckless acts, drivers will get the message that it's just not worth risking lives by trying to save a few seconds."
Footage from the camera enforcement van has been passed to the courts.
Mark Henderson, Network Rail community safety manager for Scotland, said: "Misuse of crossings is the biggest outside risk to railway safety and we will always seek to help identify and prosecute those who abuse our infrastructure."