Nabeel Khan trial hears boy saw him crush wife's neck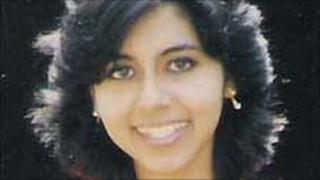 A child has told a murder trial that he saw a man "crushing" his wife's neck after a row.
The 11-year-old boy was giving evidence by video link at the trial of Nabeel Khan, 47, at the High Court in Aberdeen.
Mr Khan denies strangling his wife, Dr Iffat Kamal, in Dundee in 2008.
The child, who cannot be named for legal reasons, said the attack happened after Dr Kamal called Mr Khan's family "rude and vile".
The boy said the couple had not spoken for several days and had been sleeping in separate rooms when the incident happened.
The schoolboy told the court Mr Khan had called his wife "rude and vile".
He said Dr Kamal had responded by saying: "Your family are rude and vile."
The witness said the pair left the room but a while later he heard Dr Kamal start to scream.
He told the court he then saw Mr Khan standing with his right arm around his wife's neck while using his left arm to hold down her arms.
He told advocate depute Alex Prentice QC he saw Mr Khan "crushing" Dr Kamal's neck.
He said: "I just stood there. She was using her legs to try and get away. She was stomping them. Her legs stopped moving and became loose.
"I asked him to stop. I said 'please leave her'. I said that once and he didn't stop then I asked again and he stopped."
The boy said Mr Khan then dragged his wife to a spot on the living room floor and lay her down.
'Bite marks'
He said he remembered the clock saying 7.50am, but it was 8am before Mr Khan called an ambulance.
The boy said: "I wanted to go to the nursery next door and get help but he stopped me."
The youngster later told defence counsel Mark Stewart QC that he heard Mr Khan say, "me and my family are not rude and vile", as he struggled with his wife.
Also giving evidence, Pc Lucy Cameron of Tayside Police, told the court that Mr Khan had stressed to her at the scene that he "didn't mean to hurt his wife" - who had been working as a consultant pathologist at Ninewells Hospital.
Det con Gerald Leslie from the force, who later came into contact with Mr Khan, said there were some "scratches and possible bite marks" on the accused's right arm after he was detained.
The trial heard that Dr Kamal stayed on a life support machine for 10 days following the incident before she died.
Mr Khan denies slapping his wife in the face and murdering her by strangling her until she fell unconscious at their Simpson Court home.
Dr Kamal was said to have been so seriously injured that she died on 20 December at Ninewells Hospital, where she had worked for seven years.
The trial, before Lord Matthews, continues.