Murder trial told 'choke hold' led to doctor's death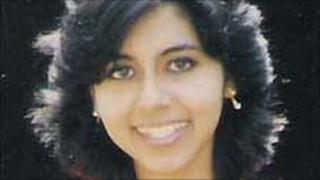 A doctor allegedly murdered by her husband appeared to have been put in a "choke hold" before she died, a pathologist has told a court.
Dr James Grieve, who carried out a post-mortem examination on the body of Dr Iffat Kamal, said an "arm lock" around her neck appeared to be the most likely scenario to cause her injuries.
Nabeel Khan, 47, denies strangling his wife at their home in Dundee in 2008.
He is being tried for her murder at the High Court in Aberdeen.
Dr Kamal, 39, was said to have been so seriously injured after being choked by Mr Khan during a row that she died 10 days later at Ninewells Hospital, where she had been working as a consultant pathologist.
Dr Grieve said his report concluded that she died as a result of "brain damage, due to external compression of the neck".
He said the injuries to her neck could be traced back to about 10 days before her death, as a tiny broken bone in the voice box showed signs of healing.
"She had her neck compressed and that was the cause of a lack of oxygen to the brain," he said.
The doctor added that there had been no signs of fingertip marks at the sides of the neck, which were often seen in "manual strangulation" using the hands.
He said the more likely method of causing such injuries was if the doctor had been placed in a "choke hold" using the crook of an arm.
An 11-year-old witness previously told the jury he saw the woman "stomping" her feet and moving her legs as Mr Khan "crushed her throat".
Dr Grieve said this could have been Dr Kamal desperately trying to fight off her attacker at first but was also likely to be a seizure brought on by the lack of oxygen to her brain.
He said: "Quite often the individual will have some form of seizure or epileptic fit. The individual is unconscious but the body is sending signals out to muscles."
Mark Stewart QC, defending Mr Khan, asked the pathologist to confirm that a strangulation victim's brain could continue to be starved of oxygen even after the person who is strangling them has released their grip.
He said: "If someone has released it, realising this was wrong, they have not solved the problem? Because once it's switched on it can't be switched off?"
'Extreme manner'
Dr Grieve replied: "Yes. The only way we can reverse that is with electricity."
The court also heard from a psychiatrist who said the accused had told his wife their marriage was over three months before her death.
However, Dr Stuart Doig said Dr Kamal had managed to persuade Nabeel Khan to give their relationship another go.
He said Mr Khan had described his wife as "short tempered and possessive", during a meeting following Dr Kamal's death.
He said: "He was feeling sad and anxious at the failure of his marriage. He had decided to leave his wife."
The witness said Mr Khan admitted slapping his wife and grabbing her throat after she made a "rude comment" to him.
"He gave reaction in a sudden and extreme manner by assaulting his wife," said Dr Doig.
The court was also told that Mr Khan had been married and divorced twice before he met Dr Kamal.
The pair were married in 2005 - less than three months after meeting via a dating website.
The trial, before Lord Matthews, continues.