Diageo deny Clackmannanshire mystery black mould link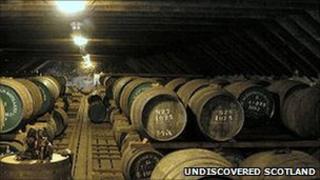 Drinks giant Diageo has denied there is any direct link between its warehouse operations and a mysterious black mould that has appeared on surrounding homes.
It comes after some residents in the Clackmannanshire town of Tullibody complained about the mould covering their houses.
The company insisted the mould was a naturally occurring substance not connected with their warehouse.
In May 2009, residents in the town of Bonnybridge made similar complaints.
There, the local health authority, NHS Forth Valley, said there needed to be further examination of the substance to determine its environmental impact.
'Environmental conditions'
The mould has been blamed on evaporating alcohol from casks at the nearby warehouse.
In Clackmannanshire, the local authority said it had been contacted by the Scottish Environment Protection Agency about the issue in December 2009.
The council said maintenance crews had to clean the area's road signs more often, but acknowledged the issue had not been investigated.
In a statement, Diageo said: "As an industry committed to the highest standards of environmental responsibility, there is continual research into our processes.
"This research has found a complex range of naturally occurring microflora at warehouse sites and that the same microflora is present widely across the environment in the UK.
"No direct association between ethanol and microflora was found.
"Instead, the microflora appears to grow wherever the prevailing environmental conditions (such as light, moisture, temperature, nutrients) support that growth."
The company said that should there be a change in the scientific evidence, they would consider reviewing the issue.