Tribute to Tay Bridge disaster train driver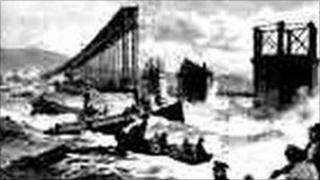 The train driver who died in the Tay Bridge disaster is to be commemorated more than 130 years after the tragedy.
An inscribed headstone will be placed on the previously unmarked grave of David Mitchell at Leslie Cemetery in Fife.
He perished along with 74 others when the train he was driving went into the River Tay on a stormy night in 1879.
The disaster happened after the centre section of the bridge, known as the "High Girders", collapsed.
A later inquiry into the disaster revealed that the bridge had not been designed to withstand high winds.
David Mitchell's body was eventually washed ashore and buried in an unmarked grave.
However, the inscribed headstone will be dedicated in his memory at a special ceremony later, which will be attended by his great grandson and his great great grandson.
At the time of the disaster, the Tay Bridge was the longest in the world and had been given the royal seal of approval by Queen Victoria, but it stood for less than two years.