TalkTalk faces action over 999 call delay to sick baby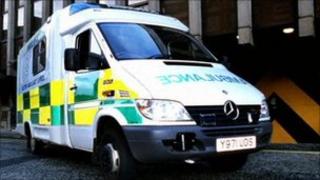 A phone company is facing action for failing to provide the correct location information to 999 operators after a baby became critically ill in Falkirk.
Kai Curran was 15 weeks old when he died from swine flu on 3 January.
When his grandmother called for an ambulance the 999 operator could only find an address in England.
Ofcom has told TalkTalk to fix its errors by 10 May or face further action. TalkTalk said it was confident it could meet the deadline.
Ofcom ruled that there were "reasonable grounds" to believe that TalkTalk had failed to provide the correct information for all 999 calls.
Kai was being looked after by his grandmother, Jennifer Whiteside, at her home in Carronside when he developed breathing difficulties.
However, the 999 operator could not find Ms Whiteside's address and the family had to wait 30 minutes before two ambulances turned up at the house in Skaithmuir Avenue.
Kai, the son of Laura Whiteside, 21, and Andrew Curran, 23, was taken to Stirling Royal Infirmary but could not be saved.
It later emerged paramedics could have been further delayed after a trainee refused to take the call because she was working alone.
The Scottish Ambulance Service has launched an inquiry into the delayed response to the 999 call.
The 28-year-old trainee was also suspended while the investigation was carried out.
Ofcom has given TalkTalk three weeks to carry out an audit to ensure correct address information is held for current and future customers.
Not compliant
An Ofcom spokeswoman said: "We are taking this incident very seriously. Under our rules, communications providers are required to provide the correct information about the location of callers who dial 999.
"We have investigated whether TalkTalk is fully compliant with our rules and have found that it is not.
"We have issued a notification to ensure that TalkTalk fixes these errors by 10 May."
She added: "If we have reason to believe these errors are not fixed by that date we can take further action against them."
Kai's mother, Ms Whiteside, said: "Nothing will bring Kai back but hopefully this will never happen to another family."
A spokesman for the phone company said: "TalkTalk recognises the vital importance of emergency call handling and takes its responsibility very seriously.
"We are currently completing an internal audit and are confident that we will be able to meet Ofcom's deadline and demonstrate we have the right processes in place."