Husband 'responsible' for Dr Iffat Kamal death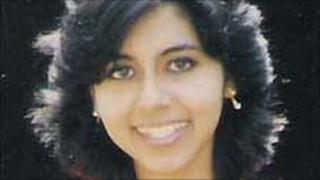 A man accused of murdering his wife has told a court he accepted "full responsibility" for her death.
However, Nabeel Khan said he did not intend for Dr Iffat Kamal to die when he grabbed her by the neck at their Dundee home in December 2008.
The 47-year-old told the jury it was like his "mind was exploding" when he lashed out at Dr Kamal.
He denies murdering his wife by compressing her neck until she became unconscious. She died 10 days later.
Under cross examination at the High Court in Aberdeen, Mr Khan said: "Something just happened to me. I just lost control."
He added: "I have never experienced anything like this before in my life. I can normally control myself. Always, I walk away. But on this fateful day I do not know what happened to me."
Mr Khan told his defence counsel Mark Stewart QC that he was responsible for his wife's death by holding his arm around her neck.
He said the pair - who met on a "matrimonial website" after Mr Khan's second divorce - had rowed during their three-year marriage.
He said an argument over him disciplining Mrs Kamal's son from a previous relationship had led to the pair sleeping in separate beds and not speaking for days.
The former accountant said he slapped his wife after she spoke to him "rudely" and grabbed her when she lashed out at him.
"I said there was no reason to be rude," he said.
"I remember she said something like I was rude and my family was rude.
"I just remember having lost my control and slapped her.
"I tried to hold her back and she just slumped down," Mr Khan said.
Mr Stewart QC, defending, said: "We have heard that when her neck was being compressed she suffered oxygen deficiency to her brain."
Mr Khan said: "I take full responsibility."
The lawyer added: "We have heard that ultimately she died. Do you accept responsibility for that?"
Mr Khan said: "Yes."
'Significant abnormality'
Dr Kamal, 39, died on 20 December 2008, at Ninewells Hospital in Dundee, where she had been working as a consultant pathologist.
The court was told that Mr Khan had suffered feelings of depression following the breakdown of all of his marriages and that his father had also suffered from the condition.
The accused told advocate depute Alex Prentice QC, prosecuting, that he was "deeply ashamed" of slapping his wife.
He said: "I'm deeply ashamed that I raised my hand. I should've walked away with a situation like that."
Mr Khan added that he had "always been truthful" about what he had done to his wife throughout the case.
Later, the court heard from the accused's mother, Nasim Yusif, who said members of her family had been affected by mental illness.
Mrs Yusif said her grandfather had died in a mental hospital, her husband had suffered from depression for a decade and her brother was also being treated in a mental hospital.
Dr Andrea Freil, a psychiatrist who interviewed Mr Khan after his arrest, said she believed the accused was suffering from an "adjustment disorder", when he attacked his wife.
She said: "It's a recognised abnormal reaction to stressful events."
A report compiled by Dr Freil, read in court, added: "It would be considered a significant abnormality of mind and did impair his ability to control his actions in relation to the offence."
The trial, before Lord Matthews, continues.