Bald eagle Pilgrim goes missing from Perthshire home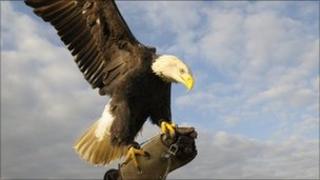 A bald eagle, described as a "big softie" by its carers, has gone missing from its home in Perthshire.
Pilgrim, a nine-year-old bird, was hand-reared in captivity and does not know how to feed himself in the wild.
He was chased away from his home at the Phoenix Falconry near Auchterarder by wild buzzards.
Staff at the falconry centre said the loss was "very upsetting", and said the eagle did not pose any danger to the public.
Head falconer Adrian Hallgarth said: "This is very upsetting for us, especially since the same thing happened almost exactly a year ago.
"Birds of prey are fiercely territorial, particularly at this time of year, when they are rearing young.
"If Pilgrim was in the wild, he would be just as fierce, but he was hand-reared from birth - he's a big softie. He's a member of our family and we just want to get him back home."
'Distinctive bird'
Mr Hallgarth said that because Pilgrim had never acquired the skills to feed himself in the wild, he needed any members of the public that spotted him to get in touch as soon as possible.
He added: "He is a very distinctive bird; dark brown with a white head and tail, and a wing span of almost seven feet. You are unlikely to mistake him for a native species.
"The most important thing to remember is that he poses no danger to anyone or anything."
The bald eagle - native to North America and the symbol of the USA - is a close relative of the white-tailed eagle, which has been making a comeback following reintroduction to parts of Scotland.
The name refers not to a lack of feathers on its head, but is derived from the word "piebald", meaning two-tone because of the bird's colouring.