Violinist Benedetti seeks maestro for Raploch project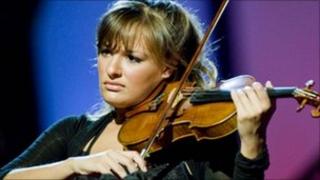 Nicola Benedetti is to visit Venezuela to help members of a youth orchestra that inspired musicians in what was one of the poorest areas of Stirling.
The violinist, who has worked as a "musical big sister" to children in Raploch's Big Noise project, is travelling to Caracas in July.
She will perform with the Simon Bolivar Orchestra and also attempt to find a new musical director for Big Noise.
The project, set up in 2008, is based on Venezuela's El Sistema scheme.
It was designed to boost the life chances of poor children in the barrios of Caracas.
During her trip, Nicola Benedetti will give masterclasses and individual lessons to children in the country's El Sistema programme.
She said: "El Sistema is one of the most exciting things happening in music today.
"I am thrilled to be engaging with its most advanced graduates in Venezuela while also helping the children at the start of the process back home in Scotland."
Ms Benedetti, who has joined the board of the charity behind Big Noise, said she was also on a quest to find someone who could give "support and vision" to Sistema Scotland as director of music.
She added: "The children I have taught in Raploch really are hugely talented, and I don't say that lightly.
"I believe they have enormous potential. It is phenomenal to walk round the estate and see all these children carrying instrument cases and talking about their orchestra.
"It is very moving for someone like me. I have always dreamed of our communities experiencing the infectious joy of playing music together."
The Big Noise, which involves about 300 children at Raploch Primary School being taught to play string instruments, aims to boost the children's confidence and encourage them to work together.
Ms Benedetti said: "Its quite remarkable to think that a community such as Raploch with no tradition of serious music making until three years ago, is now plugged in not just to the Simón Bolívar Orchestra of Venezuela, and the BBC SSO - but also the Berlin Philharmonic."
A recently published report, commissioned by the Scottish government, suggested Big Noise was transforming the community of Raploch, once synonymous with crime and drug problems.