Murder accused Patrick Rae 'hassled' sisters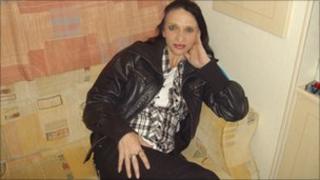 A murder accused warned his alleged victim and sister they were "going to die after sex", a court is told.
Michelle Rodger, 27, said Patrick Rae had been pestering her and her sister at Fat Sam's nightclub in Dundee on 24 February 2010.
The 41-year-old denies raping and murdering Mary McLaren, 34, between 25 February and 10 March 2010 at North Marketgait and elsewhere in the city.
He also denies hiding her body, and getting rid of a knife or similar item.
Ms Rodger said she was arrested by police outside the nightclub after throwing paper which hit an officer.
She told the trial she had intended to hit the man who had been hassling them.
"I said that man is wanting to have sex with us and do bad things to us," she said.
'Swore at him'
Ms Rodger said she had gone out for the night with her sister and had met a "pretty scruffy" man with an Irish accent. She identified him as Mr Rae.
Both sisters danced with him, but Ms Rodger said they told him they were not interested in leaving the nightclub with him.
She added that she swore at him when he spoke to her about sex.
She said he told them: "You are going to die after sex."
Ms Rodger said police later told her that they had put Ms McLaren into a taxi home.
Ms McLaren's husband Scott, 42, told the court his wife had a "funny, joyful, happy" personality.
He said the couple, who had been married for 10 years, had three children and had considered having more.
Body in undergrowth
Ms McLaren was reported missing by her mother the following day after she failed to return to her own address.
Her body was found in undergrowth near Dundee's Ladywell roundabout almost two weeks later.
Mr Rae is alleged to have repeatedly struck Ms McLaren's head and body against a hard surface and forcibly removed her clothing.
It is also alleged he struck her on the neck with a knife or similar instrument and placed fabric over her throat, seized her by the throat and compressed it.
Mr Rae has lodged special defences of alibi and consent.
The trial before Lord Tyre continues.